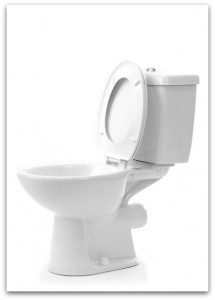 For many men, peeing while standing up is one of life's great joys. It makes heeding nature's call quick and easy…but it can also get a bit messy. This unfortunate drawback is what led to one of the most ridiculous court cases of all time in Germany.
In January, Judge Stefan Hank ruled on a case between a landlord and a former tenant in the district court of Dusseldorf. The landlord argued that the tenant had destroyed an expensive floor in the apartment of the bathroom he was renting. He claimed that, because the tenant peed while standing up, countless amounts of urine droplets had corroded the marble around the toilet.
After the tenant moved out, the landlord refused to refund $2,100 of his $3,300 deposit, claiming that the floor would need to undergo extensive repair work. During the ensuing trial, the landlord's lawyer called in a "technical expert" to confirm that the urine had, indeed, messed up the floor.
Nevertheless, Hank ruled in favor of the tenant. While rendering his verdict, the judge acknowledged that the urine had definitely caused the damages but that the tenant couldn't be held responsible for them. Hank contended that the landlord should have warned him about the floor's "sensitivity" before he moved in.
"Despite the increasing domestication of men in this regard, urinating while standing up is still widespread," Hank added, "anyone who still practices this formerly dominant custom has to expect occasional clashes with, especially female, flatmates. But they don't have to worry about corrosion to the marble floor."
Hank's verdict, which later captured headlines around the world, furthered an ongoing debate in households all across Germany and beyond, particularly his remark about a "formerly dominant custom." Being overly clean is a German stereotype, and in recent years, there's been a movement to encourage men to be tidier whenever they use a toilet. It's now common to find signs everywhere from public restrooms to guest bathrooms in private homes asking male visitors to behave like sitzpinkler (men who pee while sitting down).
Despite the efforts of proponents, many German men stubbornly remain stehpinkler, or guys who pee while standing up. In fact, sitzpinkler has emerged as an epithet to be used against someone deemed un-masculine.