Here are some fun things to listen for next time you see these films.
JURASSIC PARK (1993)
We Hear: The T-rex roaring and huffing as it chases a Jeep
Actual Sound: The vocalizations of a whale, lion, alligator, elephant, and koala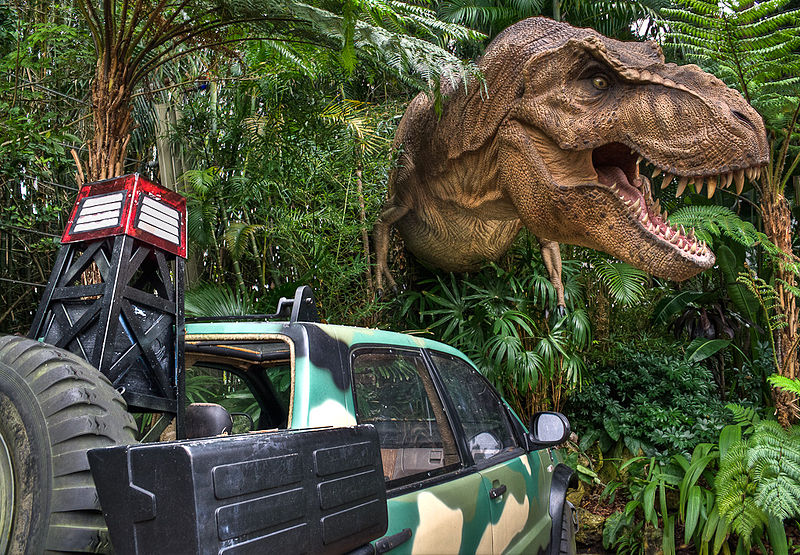 THE MATRIX (1999)

We Hear: The "Matrix Code" scrolling rapidly across the screen
Actual Sound: Raindrops hitting a window, sped up and digitized
APOCALYPSE NOW (1979)
We Hear: The film's star, Martin Sheen, narrating his lines
Actual Sound: Sheen's younger brother, Joe Estevez—whose voice sounds nearly identical—was brought in a year later to record additional narration because Sheen was too busy on his next film.

O BROTHER, WHERE ART THOU? (2000)
We Hear: A chain gang of prisoners singing "Po Lazarus"
Actual Sound: A 1955 recording of real prisoners on a chain gang
THE AVENGERS (2012)

We Hear: The Hulk roaring
Actual Sound: Lou Ferrigno. He played the title character and originated the roar in the 1970s TV show, The Incredible Hulk. He's since voiced the roar in Hulk cartoons and on the big screen.
STAR TREK IV: THE VOYAGE HOME (1986)
We Hear: The low hum of a massive space probe nearing Earth
Actual Sound: After several failed attempts, sound designer Mark Mangini couldn't create a spaceship hum that pleased star/director Leonard Nimoy. So Mangini asked him, "What should it sound like?" Nimoy replied, "Like this," and then started humming. Mangini grabbed a microphone and recorded Nimoy's humming, which ended up in the final mix of the film.